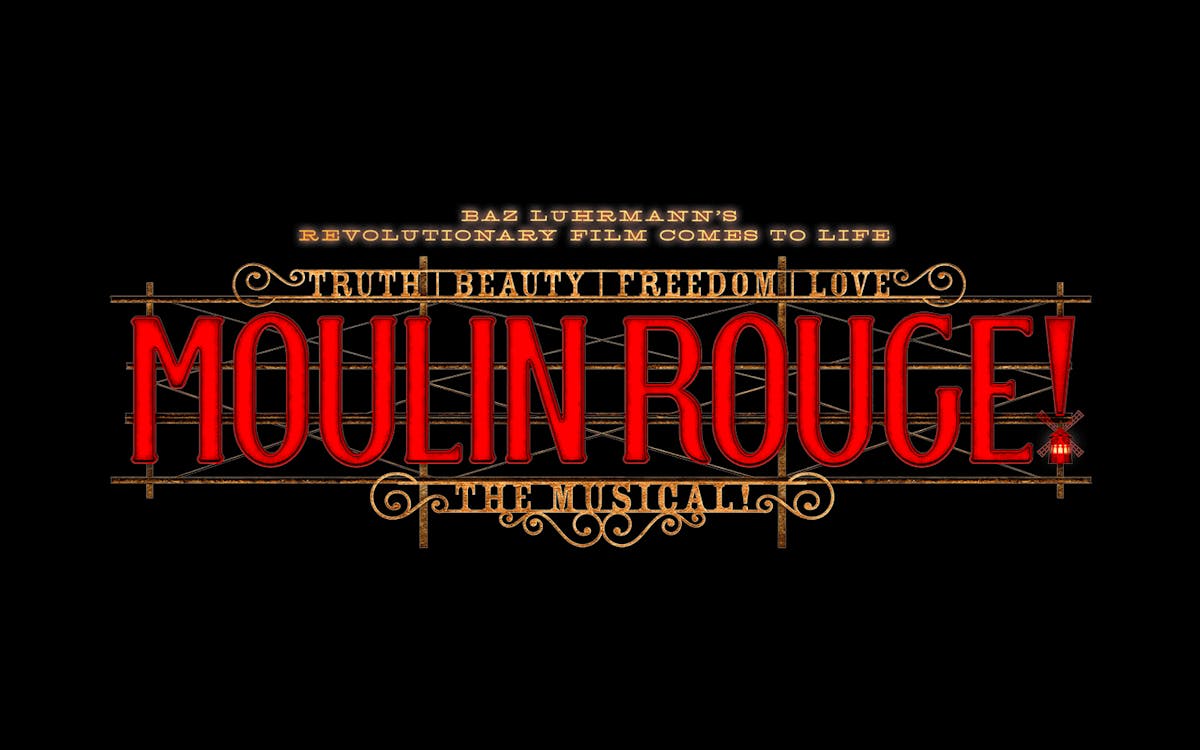 Official Blurb:   Enter a world of splendor and romance, of eye-popping excess, of glitz, grandeur and glory! A world where Bohemians and aristocrats rub elbows and revel in electrifying enchantment. Pop the champagne and prepare for the spectacular spectacular…
Welcome to Moulin Rouge! The Musical!
Baz Luhrmann's revolutionary film comes to life onstage, remixed in a new musical mash-up extravaganza. A theatrical celebration of truth, beauty, freedom and — above all — love, Moulin Rouge!is more than a musical; it is a state of mind.
The TRUTH.BEAUTY.FREEDOM.LOVE preview videos:
My Take: It is still fun, loud, romantic, kitschy and fabulous  and im still obsessed. Moulin Rouge was as fabulous the second time around I saw it. I went to see it in Boston for the pre-broadway engagement, as as I said in that review (click to read it, im going to keep it short so as not to repeat myself) I loved it then, loved it now and everything still rings true.  (I might have an even larger Aaron Tveit obsession now if that's possible) On second visit it actually got better.  There were some changes that i actually didn't even remember until i circled back to my review. They took out the Florence and the Machine song, and although still long I didn't feel it which means its much tighter. I kept admiring the costumes and remember I hadn't loved them in Boston, I think there was a lot of improvement in that area and not a ripped pantyhose in sight!  My biggest original qualm, apart from the costumes in Boston, was that I felt the chemistry was not there. I was obsessed with Aaron Tveit but felt that the relationship between the two felt cold. Although sparks are not going everywhere, i think their chemistry has improved leaps and bounds and Karen Olivo, who although I love but didn't love as Santine, totally convinced me this time around. Run to see this, its so much fun, you will not regret it.
Official Blurb: MEET ALEX,a photographer on a holiday with his family in the south of France.MEET ABE,a music producer with a baby on the way.
Two men – both fathers, husbands, and sons –TAKE US ON A JOURNEY YOU WILL NEVER FORGET.
The finest actors of their generation, Academy Award® nominee Jake Gyllenhaal (Sunday In The Park With George) and Tony Award® nominee Tom Sturridge (1984), had audiences roaring to their feet at the sold-out engagement at The Public Theater. Now Sea Wall/A Life, from the visionary creative team behind The Curious Incident of the Dog in the Night-Time, Constellations and A Doll's House, comes to Broadway.
My Take: This was deep. Deep in the I just saw something amazing but might need to go be depressed for a awhile in my room or see some really light comedy to get my head back together deep. It's sad and its gut-wrenching but the performances – man those cant be denied. Also will anybody ever complain of seeing Jake Gyllenhall absolutely kill it for 45 minutes straight?. Forewarning – I actually didn't know what I was getting into when I went to the theater (really we just wanted to see Jake) . but for full disclosure, this is not an ensemble play. It is two acts, each one its a single monologue, the first one – sea wall, delivered by Tom Strurridge. The second, A life delivered by Jake Gyllenhaal. This exceeded my expectations but just wanted to put the warning out there as I know some people might be completely turned off by a monologue situation.
Official Blurb:
USHER
These are my memories / Of one lone black gay boy I knew who chose to turn his back on the Lord.
Usher is a black, queer writer, working a day job he hates while writing his original musical: a piece about a black, queer writer, working a day job he hates while writing his original musical. Michael R. Jackson's blistering, momentous new musical follows a young artist at war with a host of demons — not least of which, the punishing thoughts in his own head — in an attempt to capture and understand his own strange loop.
My Take: This is some serious subject matter (between his traumas of being queer, black, fat and in a work funk there is a lot of self destructive material to go through and digest). The music was spectacular and the use of the voices as kind of a greek chorus thing was very impressive. It is thoughtfully deep yet entertaining and approachable all at the same time. My only qualms – i wish Usher's voice was a bit better, he is an absolutely amazing performer just i feel the songs could soar more. I also think the show  has a dip in its engagement. I feel if it had an intermission some people might have been hesitant to go back in. The beginning and end are great, it just gets a tad messy in the middle. however an absolutely impressive show that i am so glad i got to see, but that i think it might not be everyone's cup of tea..