I love theater – no shock there. So I get really exited looking at potential new productions that are coming around (and mentally planning when I can make a trip to go see them now that I no longer live in NY/London). NYTimes did and article this week  Like the Movie, Only Different – Hollywood's Big Bet on Broadway Adaptations, on potential entrants into the Broadway world from movie adaptations.  This, plus all the advance sale emails I have received got me thinking that there are a lot of interesting things in the theater horizon (I'm linking to the shows webpages in case you want more information). Here's what Im looking forward to, First  Short Term  productions (i.e things with a cast and/or start date/ or just started) in New York, then London and finally the long term development gossip that has me excited.
Short term New York
The Bridges of Madison County This I am really looking forward too. What caught my eye:
the story, a great romantic classic.
The lyrics and books are by Jason Robert Brown, who did Last 5 Years which is spectacular.
Bartlett Sher is directing.
It stars Kelli O'Hara. That's enough to definitely warrant me getting a ticket! It starts January 2014
Official Description: THE BRIDGES OF MADISON COUNTY takes us deep into the heart of our country and tells the very moving story of a beautiful young woman leaving Italy and suddenly living in Iowa… and her joyful discovery of love.
Aladdin Probably the one I'm most excited about! I'm a Disney Groupie, and am totally looking forward to this (full disclosure I worked at DTG the producers so I might be biased 😉 )Its starting in 2014 at the New Amsterdam theater. Why am I Exited about it? Its Aladdin. Its Disney. I will go see it.
If/Then The show was Announced by Playbill recently and it will start at the Richard Rodgers Theatre in March 2014. What is cool about this: It stars Idina Menzel!! Also great: The musical is from the creative team behind the Pulitzer Prize-winning Next to Normal
BIG FISH Why I want to see this, another four reasons.
Susan Stroman -is directing, she is fabulous and I have usually liked what she puts on stage
Norbert Leo Butz is the lead, fabulous actor!
Andrew Lippa did the music. I am a big fan of his! We did his Wild Party in College and his songs are fabulous and catchy as hell.
Big Fish was such a ridiculous imaginative movie that I kind of curios how it will translate on stage. Lots of opportunity for craziness.
Offical description: BIG FISH is a new Broadway musical featuring direction and choreography by 5-time Tony Award® winner Susan Stroman (The Producers, The Scottsboro Boys), music and lyrics by Tony nominee Andrew Lippa (The Addams Family, The Wild Party), and a new book by esteemed screenwriter John August (Big Fish, Charlie and the Chocolate Factory). Two-time Tony winner Norbert Leo Butz (Dirty Rotten Scoundrels, Catch Me If You Can), Tony nominee Kate Baldwin (Giant, Finian's Rainbow) and Tony nominee Bobby Steggert (Giant, Ragtime) lead the cast of amazing characters. Based on the celebrated novel by Daniel Wallace and the acclaimed Columbia Pictures film directed by Tim Burton, BIG FISH centers on Edward Bloom, a traveling salesman who lives life to its fullest… and then some! Edward's incredible, larger-than-life stories thrill everyone around him – most of all, his devoted wife Sandra. But their son Will, about to have a child of his own, is determined to find the truth behind his father's epic tales. Overflowing with heart, humor and spectacular stagecraft, BIG FISH is an extraordinary new Broadway musical that reminds us why we love going to the theatre – for an experience that's richer, funnier and BIGGER than life itself.
ROCKY I think the reason I want to see this is pure curiosity. Rocky as a musical? really? It has gotten good word of mouth from the German incarnation, so I guess it really is one of those things you have to see to believe. It starts February 2014 at the Winter Garden Theatre
Official Description: In 1976, an unknown actor wrote and starred in an independent movie about a struggling but indomitable Philadelphia boxer who gets a once-in-a-lifetime shot to go the distance. An underdog story both on-screen and off, Sylvester Stallone's Rocky went on to win the Academy Award® for Best Picture and touch the hearts of millions. Now, that iconic film has inspired an innovative new stage production, brought to extraordinary life by a five-time Tony Award®-winning creative team, including director Alex Timbers (Peter and the Starcatcher), book writer Thomas Meehan (The Producers) and songwriting team Lynn Ahrens and Stephen Flaherty (Ragtime).Both an adrenaline-infused spectacle and a surprising tale of blossoming romance between two lonely outsiders, ROCKY is a visceral and heart-stopping theatrical experience for everyone brave enough to follow their dream.
BETRAYAL  I am so there. I just hope high expectations of Harold Pinter + Mike Nichols + Daniel Craig + Rachel Weisz doesn't disappoint when it all actually comes together. But on paper, it has the makings of a hit!
Official Description: Mike Nichols directs Harold Pinter's innovative play about an extramarital affair. This production stars Daniel Craig, Rachel Weisz, and Rafe SpallBETRAYAL originally premiered at London's National Theatre in 1978 and was immediately hailed as one of Pinter's masterworks, winning the 1979 Olivier Award for Best New Play. Emma (Rachel Weisz) is married to Robert (Daniel Craig), a publisher, but she has long had an affair with Jerry (Rafe Spall), a literary agent and Robert's best friend; as, in a brilliant device, time is regained, so the full complexity of their relationships comes to light.Scenic design is by Ian MacNeil. Costume design is by Ann Roth. Lighting design is by Brian MacDevitt. Original music is by James Murphy. Sound design is by Scott Lehrer. Previews 10/1, Opening 11/3) Ethel Barrymore Theatre.
ROMEO AND JULIET It is Romeo and Juliet and it features Orlando Bloom. Really nothing else needs to be told to get me to buy a ticket.
Email Blurb received: Susan Stroman directs the musical adaptation of Woody Allen's film. Featuring the music of the 1920s, this new musical will premiere on Broadway this spring. (Previews 3/11) St. James Theatre.
According to Broadway World article, Zach Braff has been cast. Susan Stroman and Zach Braff together – could be interesting. Although I think Bullets over Broadway on Broadway is going to start being a mouthful
A TIME TO KILL Email Blurb received : John Grisham's legal thriller about a young white lawyer defending a black man for murder comes to Broadway in an adaptation penned by Rupert Holmes. (Previews 9/28, Opening 10/20) Golden Theatre.
RAISIN IN THE SUN – Denzel Washington is back on the stage
FIRST DATE It starts Krysta Rodriguez (from TV Smash fame, who was also great in the Adams Family) and Zachary Levi (Chuck), and It just recently opened. Its a romantic comedy. I'm there.
Ofiicial Description: When tightly wound Aaron is set up with cool girl Casey, a quick drink turns into a hilarious dinner served with sides of Google background checks, fake emergency phone calls, a slew of bad boy and uptown girl exes, and some seriously saucy chemistry. Can this mismatched pair turn what could be a dating disaster into something special before the check arrives, or end up at another table for one?
Short term London
STEPHEN WARD , This the new musical by one of my faves, Andrew Lloyd Webber, starting December 3rd, 2013 at the Aldwych Theatre in London. Here is a recent Article with Richard Eyre who is going to be directing. Andrew Lloyd Webber and Richard Eyre together is going to be good stuff (Even if the topic of the show seems a bit weird for a musical)
Official Description: STEPHEN WARD charts the rise and fall from grace of the society osteopath. Friend to film stars, spies, models, government ministers and aristocrats, his rise and ultimate disgrace coincided with the increasingly permissive lifestyle of London's elite in the early 1960′s.The musical centres on Ward's involvement with the young and beautiful Christine Keeler and their chance meeting in a West End night club which led to one of the biggest political scandals and trials of the 20th century.
FROM HERE TO ETERNITY – New work from Tim Rice makes this show creep up on my list.
Official description: Legendary lyricist Tim Rice makes his long-awaited return to the musical spotlight with From Here to Eternity. Adapted from James Jones' 1951 novel, this WWII-set tale of torrid relationships unfolds amid the swirl of events surrounding the Japanese attack on Pearl Harbour. Super-talented newcomer Stuart Brayson provides the musical settings for Rice's reassuringly superb lyrics. The show's book is by Bill Oakes and it's directed by Tamara Harvey,whose recent credits include last year's accliamed revival of Educating Rita at the Menier Chocolate Factory and on UK tour, and the UK tour of Andrew Lloyd Webber's Tell Me On A Sunday in 2010 / 2011.  Loosely based on novelist James Jones' own wartime experiences, from Here To Eternity follows the fortunes of several members of a military company including Captain Dana 'Dynamite' Holmes and First Sergeant Milt Warden, who begins an affair with Holmes' wife Karen.  Published in 1951, From Here to Eternity was Jones' debut novel and won him the National Book Award for fiction. It spawned the Oscar-winning 1953 film starring Burt Lancaster, Montgomery Clift, Deborah Kerr, Donna Reed and Frank Sinatra, as well as a subsequent TV mini-series. Censors famously toned down several homosexual elements of the story in both the novel and film. Speaking to the Telegraph recently, Tim Rice said: 'There's a lot of tension in the book of the relationships between the men which are at times gay, at other times simmering, and it's something we definitely won't keep out of the show.'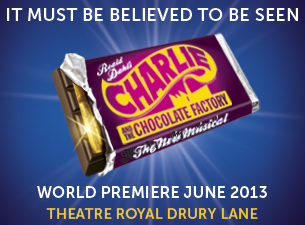 CHARLIE AND THE CHOCOLATE FACTORY – It just opened, and I wasn't able to see it in my last trip to London, but it will definitely be seen on my next trip! The reviews were lukewarm,  but not terrible enough to subside my interest.
Official Description: ROALD DAHL's deliciously dark tale of young Charlie Bucket and the mysterious confectioner Willy Wonka comes to life in a brand new West End musical directed by Academy Award® winner Sam Mendes.  When Charlie wins a golden ticket to the weird and wonderful Wonka Chocolate Factory, it's the chance of a lifetime to feast on the sweets he's always dreamed of. But beyond the gates astonishment awaits, as down the sugary corridors and amongst the incredible edible delights, the five lucky winners discover not everything is as sweet as it seems.  Featuring ingenious stagecraft, the wonder of the original story that has captivated the world for almost 50 years is brought to life with music by Marc Shaiman, and lyrics by Scott Wittman and Marc Shaiman (Grammy® winners for Hairspray; Smash), a book by award-winning playwright and adaptorDavid Greig (The Bacchae; Tintin In Tibet), set and costume designs by Mark Thompson (Mamma Mia!; One Man, Two Guvnors) and choreography by Peter Darling (Billy Elliot The Musical; Matilda The Musical). 
HENRY V Jude Law and Michael Grandage continue their collaboration that began with Hamlet in 2009. Law also appeared in the Donmar's award-winning production Anna Christie, as part of Grandage's final season as Artistic Director.
Jude Law + Michael Grandage is a proven combination.
Long term Projects
DO THAT CONGA– Recent Article from Broadway World as well as People Magazine, states that this is a musical based on Gloria Estefan songs, produced by the Nederlander Organization. The names floating around to play the leads seem very interesting. For Gloria they are: Thalia, Jennifer Lopez and Fanny Lu,. For Emilo : Chayanne, Carlos Ponce and William Levy.
BRIDGET JONES THE MUSICAL – Hopefully it will happen soon, But Sheridan Smith departing as the lead might not bode well for it coming anytime soon
THE PHILADELPHIA STORY – Probably early development but definetly one to look forward to
MY FAIR LADY – Its been on the works for years. Now Anne Hathaway & Colin Firth Out and Ralph Fiennes is rumored to be the new Professor Higgins. Hopefully it will be on the stage soon
MAGIC MIKE – This one is mentioned both on the NY times article as well as by Michael Riedel – When it will be on stage its still not known