BROADWAY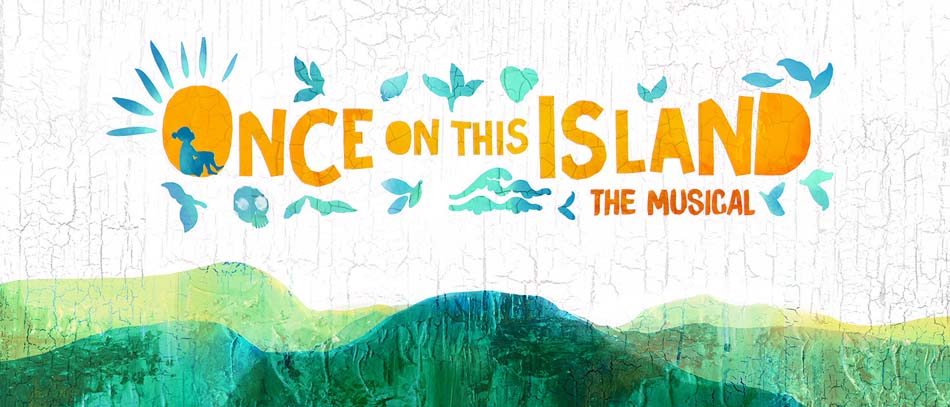 Official Blurb: "What a delight it is to enter the world of ONCE ON THIS ISLAND!" raves The New York Times. Time Out New York cheers, "After seeing this imaginative and dynamic musical, you may feel once is not enough!" This is the sweeping theatrical power of ONCE ON THIS ISLAND—the universal tale of Ti Moune, a fearless peasant girl in search of her place in the world, and ready to risk it all for love. Guided by the mighty island gods (played by Tony Award® winner Lea Salonga, Glee's Alex Newell, American Idol's Tamyra Gray, and Porgy and Bess' Norm Lewis), Ti Moune sets out on a remarkable journey to reunite with the man who has captured her heart.
The groundbreaking vision of Tony Award-nominated director Michael Arden (Spring Awakening revival) and acclaimed choreographer Camille A. Brown conjures up "a place where magic is possible and beauty is apparent for all to see!" (The Huffington Post). Gather around for ONCE ON THIS ISLAND—the musical NY1 hails as "exhilarating theater! It's impossible to resist!" And where the timeless power of theatre brings us together, moves our hearts, and helps us weather the storm
My take
: How does one judge a revival: by the story or by the interpretation of the story. I think it has to be a bit in between. If it comes to the book and music I'm torn. The music here is great, very lively and engaging. It becomes a little party on stage. The book? What the hell was that ending! that all I have to say. The story is a bit out there but once you suspend disbelief and fall into the music it is very enjoyable. However, as my friend who went to see the show with me said- that ending just killed it. As for the interpretation, that is where this musical earns all the points. It is beautifully staged, Michael Arden did a fabulous job. The circle in the square lends itself perfectly to a very creative and low-key staging that works wonderfully. But really the highlight of the show is the cast. There are some powerhouses (Which surprisingly I feel are actually even underutilized, that's how much good talent there is). I am obsessed with Norm Lewis voice and he did not disappoint, though again more songs for him please!! Lea Salonga's voice is beautiful as always and it cuts through the theater, although she seemed a bit not 100% comfortable in her part. Yet, just to hear her sing is enough to pay the price of admission. Tamyra Gray and Alex Newell also kill it as the other two gods. I was very disappointed not to see Hailey Kilgore as Timoune as she was out. I got her understory and she was great, just had heard such good thing about her that wanted to see her.  A fun night out, with charming musical, great stage energy and aother very efficient 90 minutes production. Can all musicals copy this?
OFF BROADWAY
Official blurb: First love is a bittersweet symphony! Cruel Intentions: The '90s Musical Experience pulls you into the manipulative world of Manhattan's most dangerous liaisons: Sebastian Valmont and Kathryn Merteuil. Seduced by revenge and fueled by passion, the two diabolically charming step-siblings place a bet on whether or not Sebastian can deflower their incoming headmaster's daughter, Annette Hargrove. As the two set out to destroy the innocent girl—and anyone who gets in their way—they find themselves entangled in a web of secrets, temptation, and the cruelest game of all: love.
Featuring your favorite throwback hits by artists like Boyz II Men, Christina Aguilera, REM, *NSYNC, and, of course, Britney Spears, NYC's most intoxicating new musical is a full-on '90s party. Yes, it's the movie you love, set to the songs you know, performed live, with drinks…and missing out might just ruin your reputation. Happy hunting!
My take:  The Cruel Intentions Musical is a really fun night out with friends. It doesn't take itself too seriously, it's entertaining and how can you not enjoy all the 90s songs that are used. There were some song moments that are spectacular, look for the first Backstreet Boys cover, Kiss me and I'll Make Love to you. The cast is really good, it was actually a surprise how good they were. I was not expecting that high calibre of singing. Grab some friends, order a drink or two (you can it's table seating cabaret style, and you are actually expected to have a couple with your ticket) and have some nostalgic fun
CONCERT PREVIEWS
Official Blurb: A concert performance of the new musical based on the bestselling book by Jodi Picoult and Samantha van Leer. Is it possible to live the story you want, even if it's not the story you're in? Seventeen-year-old Delilah McPhee's life is turned upside down. When the handsome hero of her favorite book literally starts speaking to her, she thinks she's found the perfect escape. This empowering new musical will delight everyone who has ever wondered if they have the power to change their own story.
My Take: This was very enjoyable. The music is super contemporary and has great potential. Both Ariel Jacobs and victoria Clark were amazing, and I left wanting to know more about this musical and project!