Truly Madly Guilty by Liane Moriarty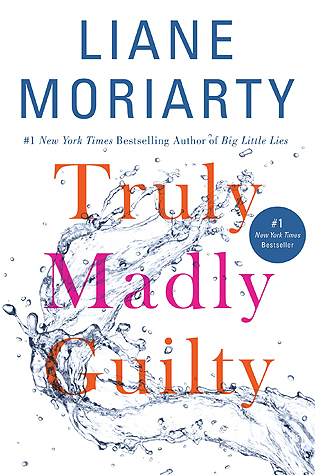 Official Blurb: Six responsible adults. Three cute kids. One small dog. It's just a normal weekend. What could possibly go wrong?
Sam and Clementine have a wonderful, albeit, busy life: they have two little girls, Sam has just started a new dream job, and Clementine, a cellist, is busy preparing for the audition of a lifetime. If there's anything they can count on, it's each other.
Clementine and Erika are each other's oldest friends. A single look between them can convey an entire conversation. But theirs is a complicated relationship, so when Erika mentions a last-minute invitation to a barbecue with her neighbors, Tiffany and Vid, Clementine and Sam don't hesitate. Having Tiffany and Vid's larger than life personalities there will be a welcome respite.
Two months later, it won't stop raining, and Clementine and Sam can't stop asking themselves the question: What if we hadn't gone?
In Truly Madly Guilty, Liane Moriarty takes on the foundations of our lives: marriage, sex, parenthood, and friendship. She shows how guilt can expose the fault lines in the most seemingly strong relationships, how what we don't say can be more powerful than what we do, and how sometimes it is the most innocent of moments that can do the greatest harm
My take:  3.5 out 5. Although it is an enjoyable book and a wonderful quick summer read it failed to meet expectations for two reasons. 1. it is nowhere to the level and quality of Big Little Lies and My Husbands Secret. 2. The mystery in this book, compared to the others books is not as difficult to figure out, and it becomes a bit anticlimactic once it is revealed. nonetheless the characters are enthralling and the analysis on marriage and how we interrelate are quite poignant.
Cartes Postales from Greece by Victoria Hislop
Official Blurb: Week after week, the postcards arrive, addressed to a name Ellie does not know, with no return address, each signed with an initial: A.
With their bright skies, blue seas and alluring images of Greece, these cartes postales brighten her life. After six months, to her disappointment, they cease. But the montage she has created on the wall of her flat has cast a spell. She must see this country for herself.
On the morning Ellie leaves for Athens, a notebook arrives. Its pages tell the story of a man's odyssey through Greece. Moving, surprising and sometimes dark, A's tale unfolds with the discovery not only of a culture but also of a desire to live life to the full once more
My take: 3 out of 5.  I am a huge Victoria Hislop fan. This book, a love letter to /greece, if a cute collection fo stories and a must read before a trip to Greece to get your juices going for th trip. However, unlique her previous one, there is not a throughly developed story, its more of a collection of short stories, that although cut, dont have the dramatic narrative as her other books. Note that this is a book best read in phyical print, as the beauty of it lies in the pictures and postcards that are intertwined within the story.