Two of my chick lit favorites, Emily Giffin of Something Borrowed fame and Devil Wears Prada Author Lauren Weisberger have new books this month, so of course I was going to check them out.
All We Ever Wanted by Emily Giffin
Good Reads blurb:  In the riveting new novel from the #1 New York Times bestselling author of First Comes Love and Something Borrowed, three very different people must choose between their family and their values.
Nina Browning is living the good life after marrying into Nashville's elite. More recently, her husband made a fortune selling his tech business, and their adored son has been accepted to Princeton. Yet sometimes the middle-class small-town girl in Nina wonders if she's strayed from the person she once was.
Tom Volpe is a single dad working multiple jobs while struggling to raise his headstrong daughter, Lyla. His road has been lonely, long, and hard, but he finally starts to relax after Lyla earns a scholarship to Windsor Academy, Nashville's most prestigious private school.
Amid so much wealth and privilege, Lyla doesn't always fit in—and her overprotective father doesn't help—but in most ways, she's a typical teenage girl, happy and thriving.
Then, one photograph, snapped in a drunken moment at a party, changes everything. As the image spreads like wildfire, the Windsor community is instantly polarized, buzzing with controversy and assigning blame.
At the heart of the lies and scandal, Tom, Nina, and Lyla are forced together—all questioning their closest relationships, asking themselves who they really are, and searching for the courage to live a life of true meaning
My Take: 4 out of 5. This book was surprisingly quick and easy to read and the perfect book to devour during a leg of your flight to holiday (That's exactly what I did). It was definitely a more mature version of Emily Giffin, less the beginning of love and more the end of it. Less the start of the love affair and more what happens after happily ever after. (this also means I might be growing old! my favorite authors are now more mature authors — wow!) It was enthralling yet highly satisfying in how things played out. (plus it has an epilogue, that is always a pro as not to leave you expecting what happens next in total anticipation: In looking at you Little Fires Everywhere for that). I was sactually surprised when it ended, as I was expecting so much more to go on, but it really takes a proper turn around for all the characters.
When Life Gives You Lululemons by Lauren Weisberger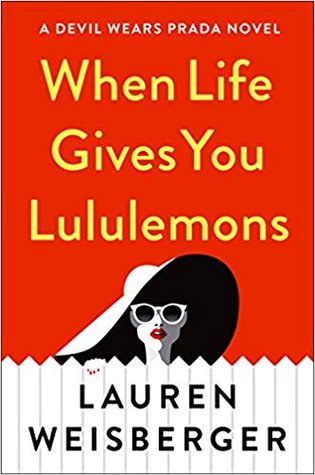 Good Reads blurb: New York Times bestselling author Lauren Weisberger returns with a novel starring one of her favorite characters from The Devil Wears Prada—Emily Charlton, first assistant to Miranda Priestly, now a highly successful image consultant who's just landed the client of a lifetime.
Welcome to Greenwich, CT, where the lawns and the women are perfectly manicured, the Tito's and sodas are extra strong, and everyone has something to say about the infamous new neighbor.
Let's be clear: Emily Charlton, Miranda Priestly's ex-assistant, does not do the suburbs. She's working in Hollywood as an image consultant to the stars, but recently, Emily's lost a few clients. She's hopeless with social media. The new guard is nipping at her heels. She needs a big opportunity, and she needs it now.
Karolina Hartwell is as A-list as they come. She's the former face of L'Oreal. A mega-supermodel recognized the world over. And now, the gorgeous wife of the newly elected senator from New York, Graham, who also has his eye on the presidency. It's all very Kennedy-esque, right down to the public philandering and Karolina's arrest for a DUI—with a Suburban full of other people's children.
Miriam is the link between them. Until recently she was a partner at one of Manhattan's most prestigious law firms. But when Miriam moves to Greenwich and takes time off to spend with her children, she never could have predicted that being stay-at-home mom in an uber-wealthy town could have more pitfalls than a stressful legal career.
Emily, Karolina, and Miriam make an unlikely trio, but they desperately need each other. Together, they'll navigate the social landmines of life in America's favorite suburb on steroids, revealing the truths—and the lies—that simmer just below the glittering surface. With her signature biting style, Lauren Weisberger offers a dazzling look into another sexy, over-the-top world, where nothing is as it appears
My Take: 3.5 out of 5. this is such a beach chick lit read – and that is not a bad thing. Great characters (some that are very familiar- I love Emily!) good locales and crazy stories. It is also easy to read which makes it a great beach read. Yes, it is ridiculous at times, of course, but our society has become quite ridiculous and this at least mocks it, especially some of the absurdities of the very wealthy. I like that it had characters to root for and had a glimmer of hope in its sarcastical world. Bonus points: Miranda Priestly makes an appearance – that is worth the price of admission (or download in this case)