Little Fires Everywhere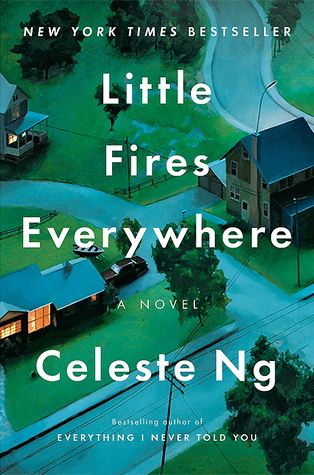 Goodreads blurb:  Everyone in Shaker Heights was talking about it that summer: how Isabelle, the last of the Richardson children, had finally gone around the bend and burned the house down. 
In Shaker Heights, a placid, progressive suburb of Cleveland, everything is meticulously planned – from the layout of the winding roads, to the colours of the houses, to the successful lives its residents will go on to lead. And no one embodies this spirit more than Elena Richardson, whose guiding principle is playing by the rules.Enter Mia Warren – an enigmatic artist and single mother – who arrives in this idyllic bubble with her teenage daughter Pearl, and rents a house from the Richardsons. Soon Mia and Pearl become more than just tenants: all four Richardson children are drawn to the alluring mother-daughter pair. But Mia carries with her a mysterious past, and a disregard for the rules that threatens to upend this carefully ordered community.When the Richardsons' friends attempt to adopt a Chinese-American baby, a custody battle erupts that dramatically divides the town and puts Mia and Mrs. Richardson on opposing sides. Suspicious of Mia and her motives, Mrs. Richardson becomes determined to uncover the secrets in Mia's past. But her obsession will come at unexpected and devastating costs to her own family – and Mia's.Little Fires Everywhere explores the weight of long-held secrets and the ferocious pull of motherhood-and the danger of believing that planning and following the rules can avert disaster, or heartbreak.
My Take: 4.5 out of 5. I was obsessed with this book and finished it in one sitting. I was absolutely loving it until the end. What is this ending. It was definitely not satisfying in a tie it all up in a bow type of bow, but man is it good. I'm really hope this gets the big little lies treatment that with the Reese Whiterspoon adaptation they decide to do a sequel and invent what the hell happens next. A highly recommenced family drama with a hint of Who dunit thriller that pulls the layers of what a perfect family is. Is it perfect – no, the characters are definitely one note and stereotypical, but the plot is thoroughly satisfying.
The Gentleman in Moscow
Goodreads blurb: When, in 1922, he is deemed an unrepentant aristocrat by a Bolshevik tribunal, the count is sentenced to house arrest in the Metropol, a grand hotel across the street from the Kremlin. Rostov, an indomitable man of erudition and wit, has never worked a day in his life, and must now live in an attic room while some of the most tumultuous decades in Russian history are unfolding outside the hotel's doors. Unexpectedly, his reduced circumstances provide him a doorway into a much larger world of emotional discovery. 
My take:  5 out of 5. This book wasn't that easy to get into, but once I did it was an express train to the last chapter.  It has characters with depth, and it deals with a political situation in multifaceted ways. Things are not black or white, like life its grey and very complicated. I also really enjoyed the convoluted timeline and how a lot of the events you knew first, then were built up to it, only to be surprised that it wasn't what you expected. A great read and highly recommended!
Still Me
Good Reads blurb: From the #1 New York Times bestselling author Jojo Moyes, a new book featuring her iconic heroine of Me Before You and After You, Louisa Clark
Louisa Clark arrives in New York ready to start a new life, confident that she can embrace this new adventure and keep her relationship with Ambulance Sam alive across several thousand miles. She steps into the world of the superrich, working for Leonard Gopnik and his much younger second wife, Agnes. Lou is determined to get the most out of the experience and throws herself into her new job and New York life.
As she begins to mix in New York high society, Lou meets Joshua Ryan, a man who brings with him a whisper of her past. Before long, Lou finds herself torn between Fifth Avenue where she works and the treasure-filled vintage clothing store where she actually feels at home. And when matters come to a head, she has to ask herself: Who is Louisa Clark? And how do you reconcile a heart that lives in two places?
Funny, romantic, and poignant, Still Me follows Lou as she navigates how to stay true to herself, while pushing to live boldly in her brave new world. 
My take: 3 out of 5. Sequels are hard. On the one hand, you become invested in these characters and want to know what comes next. What happens to them, does the happy ending last?. On the other side, they usually pale in comparison of the original and eventually start diluting the great brand that they had built. This happened a bit here. I absolutely adored Me Before You, so I will read anything that comes after. The second sequel was very weak, yet this was in between.  Not original quality level, but an improvement on the last sequel. The fact that its set in NY also gave it a new original twist and didn't seem that repetitive, whilst still holding on to the characters that we had become accustomed to.  As for the story, well its just a little implausible romantic story like all of them. Its an easy fun read, but only pick it up if you've invested in the previous two.