Of my NY theater tour, let's start with the thoughts on the big classical revivals
Official Blurb: The most beloved musical of all time, Lerner & Loewe's MY FAIR LADY returns to Broadway in a lavish new production from Lincoln Center Theater, the theater that brought you the Tony-winning revivals of South Pacific and The King and I. Directed by Tony winner Bartlett Sher, the stellar cast – led by Lauren Ambrose, Harry Hadden-Paton, Norbert Leo Butz, Diana Rigg, Allan Corduner, Jordan Donica, Linda Mugleston and Manu Narayan – tells the story of Eliza Doolittle, a young Cockney flower seller, and Henry Higgins, a linguistics professor who is determined to transform her into his idea of a "proper lady." But who is really being transformed?The classic score features "I Could Have Danced All Night," "The Rain in Spain," "Wouldn't It Be Loverly" and "On the Street Where You Live." The original 1956 production won six Tony Awards including Best Musical, and was hailed by The New York Times as "one of the best musicals of the century."
My Take:The expectations for this show were ridiculously high. I can say I planned a New York trip around seeing this show. It is my favorite Classical musical, I grew up watching this movie (in my house it went from vhs to laser disc to DVD) and I know every song, every line! Wouldn't it be loverly and I could have danced all night were constant shower songs (still are). As a theater lover I've always believed I was missing out not having seen it live. This was my moment. And man did it deliver. It met my expectations and it left me humming out of the aisles. This musical is perfect in my book therefore it needs little interpreting – a fabulous cast and a soft hand. This one did both in strides. It had its distinct touches without messing with the beauty that makes it great. The cast is amazing even if it takes a while for you to get used to different people in Such iconic roles. My dad had a hard time adjusting to the closer age difference between Eliza and Higgins- I actually loved that casting decision it makes it even more of a believable story (it also ties it up much better as to why she doesn't go with colonel pickering). Lauren Ambrose's casting I was hesitant about when I heard it but she delivers and embodies the part beautifully. And Harry Hadden-Paton has a sex appeal that is very interesting for profesor higgins. There is so much to be said of the cast. Seeing Diana Rigg onstage was great, and she has a commanding presence. Norbert Leo Butz might be better than Stanley Holloway and I would not be exaggerating if I say he probably has his third Tony coming.
The sets are a character in itself. Big loud and gorgeous. The only issue with them is that since I saw one of the first previews I think the timing wasn't fully there. The show ran over 3 hours and I think some of the time can be cut streamlining the set changes. They are beautiful but a burden to move!
Costumes although gorgeous just left me with one pet peeve – I wanted two gorgeous dress moments and I didn't get them. They are pretty dresses but competing with Audrey Hepburn is hard and the frocks just don't match the ridiculousness that are the movie dresses. But these are minor qualms everything else was delightful!!.
Spoiler alert: the ending is a whole thing to be debated. Even my dad and I had disagreements about it. I interpreted (as do a lot of chat boards discussing this), as if she doesn't stay with him (which would be a lost appropriate ending for a musical adaptation in this day and age, why would she stay with such a verbal abuser). She exits towards the audience, way never before done which I interpret to be she's leaving. I thought this was a fabulous change without touching the script and it aligns it towards the original intentions of Shaw's Pygmalion. If you've seen it hit me in the comments with your thoughts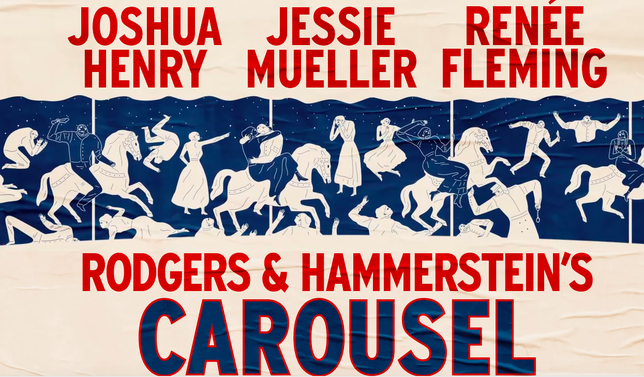 Official Blurb: "One of the most hallowed works of the American stage" (The New York Times) returns to Broadway for the first time in more than two decades. Rodgers & Hammerstein's timeless musical Carousel comes to life in a new production starring Tony Award nominee Joshua Henry, Tony winner Jessie Mueller and Renée Fleming in her first-ever appearance in a Broadway musical.
Set in a small New England factory town, Carousel describes the tragic romance between a troubled carnival barker and the young woman who gives up everything for him. Elevated to an epic scale with a sweeping musical score and incandescent ballet sequences, this story of passion, loss and redemption introduced Broadway to a new manner of musical drama — one that "set the standard for the 20th century musical" (Time Magazine) and would captivate theatergoers for generations to come.
Featuring some of the most beloved numbers in the American songbook, Carousel is "nothing less than a masterpiece" (The New York Times).
My Take: It might be considered the best musical of the 20th century by Time but having never seen it before (I know, shame on me) I didn't get Rodgers and Hammerstein brilliance in it. I don't know if it's the Source material or a poor handling of it. Im thinking it was poor handling, which also makes it non relevant to our current moment. The show does have some beautiful tunes like you'll never walk alone but the story is weird, dated, a bit slow and the acceptance of domestic violence is a bit too much for this day and age. Especially because the back stories are not fully developed. This incarnation has couple of things going for it. The cast is really good. Joshua Henry as Billy is a true revelation. Gorgeous voice! Jesse Mueller who usually steals the show doesn't shine as much here, but her voice can do no wrong and still does a fabulous performance. The problem is that they have no chemistry. You are expected to understand their crazy love story, but by the end of the show I get to inclination as to why she was with him or what made her love him and forgive his transgressions. Lindsay Mendez as a comic relief is great. The sets are minimalist but beautiful but the highlight is the choreography by Justin Peck whichis spectacular.
There are scenes however that just don't mesh – spoiler alert: the death scene and the final scene were just poorly staged and just left me confused and unemotionally engaged in a very emotionally engaging moment.
You will still have an enjoyable time it's just not going to change your life